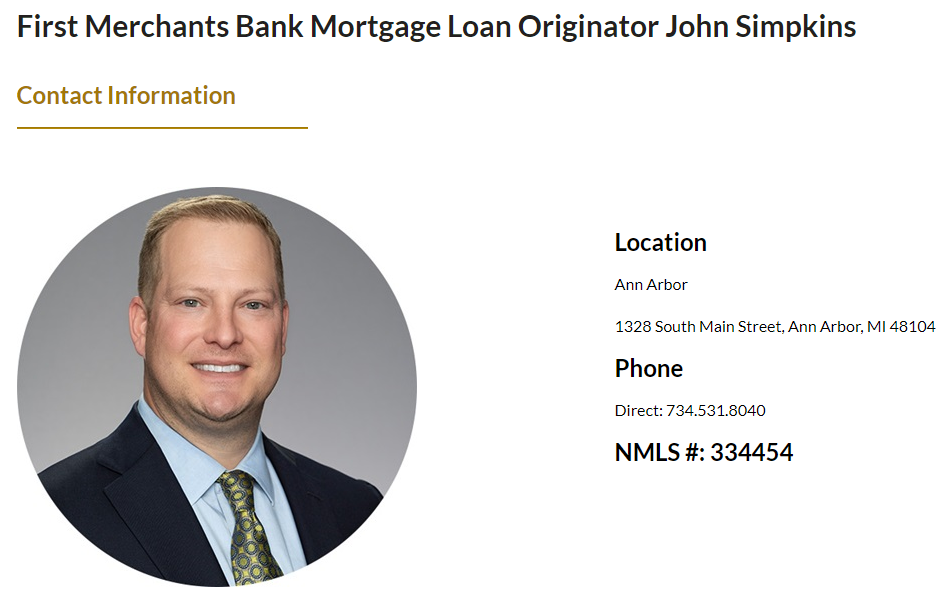 From their Ann Arbor office across from the Big House, John R. Simpkins and his fellow First Merchants team have developed quite a reputation over the years. As evident by reviews published on the internet, it's a solid reputation. For the past 20 years, whether it's been print or digital, John's clients continue to bring up the same qualities: his knowledge, positivity, and attention to details.
"John explained the entire home buying purchase to me in detail. I felt through the entire purchase he was someone I could trust to partner with on this big purchase," wrote one client on Zillow's website.
John's mission to provide a solution to each client based on their individual lifestyle has been a staple in his work ethic for the past 20 years in the mortgage industry. His inherent compassion, coupled with extensive expert knowledge of the industry, allows clients to not only understand the process but to feel reassured at every step. An Ann Arbor client wrote on Zillow, "We've used John and his team for three mortgages. He kept us informed on what was happening and what to expect, making it the easiest housing transactions we've ever experienced."
From home purchases to refinancing, John enthusiastically and expertly navigates the process while keeping clients informed. His expertise includes new construction, conventional, FHA, first-time home buyers, jumbo, USDA, and VA loans.
Without the referrals, reviews, and recommendations of clients, there would be no reputation or story to tell. John and his team thank all past and current clients for their business and their honest feedback and promise to continue the hard work with new clients.